Corfu
Corfu is the second largest island of the Ionian Sea and it covers an area of 592 square kilometres and a luxuriant coastline of 217 kilometres.  It is situated in the north side of the Ionian Sea, in the entrance of the Adriatic Sea, two and a half miles from the beach of Albania.  The mythical island of the Faiakes is an ornament of the Ionian Sea, but it is also one of the most beautiful islands in Greece, combining the green mountains and the long sandy beaches. The mild and rainy climate of the island brings out the rich flora which creates the unique colour of the island. The beautiful beaches form many bays.  The best known of them are:, Ipsos, Garitsa, Limnothalassa Chaliopoulou (in Pontikonisi), Mantoukiou and others.  Also, there are some capes like in Kavo Sidero in the City of Corfu, Agia Barbara, Kassiopi and Agia Aikaterini in the north of the island, Kefali, Asprokavo and Leukimmi in the south, Agios Stefanos in the west, Arilla, Falakro and Ag. Isidoros.  Three rows of mountains cross the island. The highest peak is Pantokratoras (914m).  Between the mountains there are many fertile valleys, like Lefkimmi and the grassland of Ropa that are washed by many rivers, which, however, are dry during the summer. Around the island there are many small islands of the same beauty and clean beaches, like in Corfu. Opposite the city of Corfu there is Bido (ancient Ptychia) and Lasareto, northwest stands Erikousa, Mathraki, Othonoi and in the south the beautiful Paxi and Antipaxi.  On this cosmopolitan island, you'll be able to combine relaxation with good times and a full nightlife
People of Corfu offer their hospitality to the visitors of the island, who experience a unique opportunity to enjoy comfortable and unforgettable vacations.
A mosaic of all nationalities and races walk through the picturesque alleys, known as the traditional "kadunia" of Corfu, which create an atmosphere of past times.  In this scenery, one can find the ideal place for vacations, since he/she can choose between the small fishing-islands for quite and relaxing staying or the cosmopolitan places with loud night life.  Also, the villages that are built in the green valleys are the ideal place for those who love the country or the innumerable beaches for those who love the extreme water sport.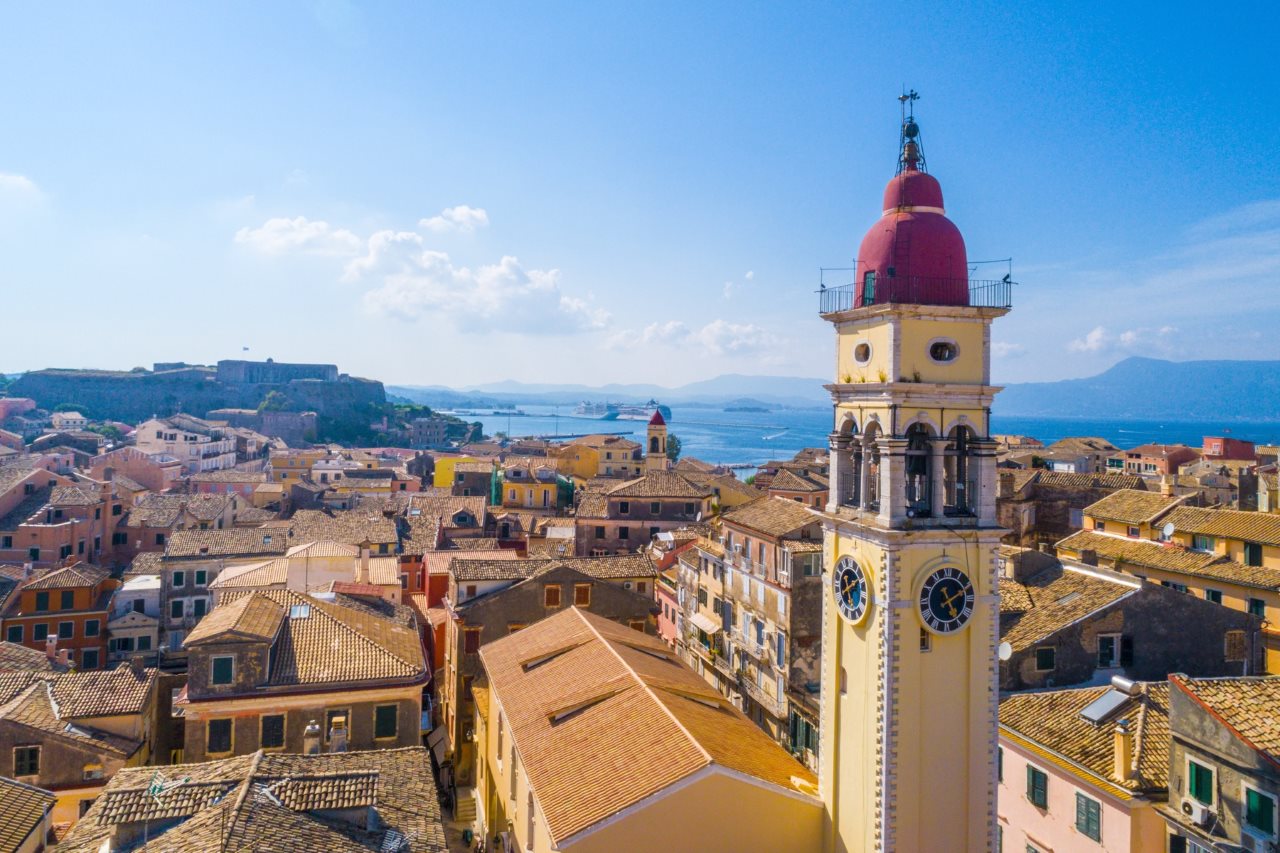 Agios Gordios
Agios Gordios is one of the most attractive destinations in Corfu, surrounded by green olive-clad mountains that lead down to a long golden sandy beach with crystal clear waters that has everything to offer to its visitor.
On the beach of Agios Gordios you can either opt for relaxation (there are beds and umbrellas for hire) or get a bit more involved. There are boats, canoes and pedallos for hire that offer the opportunity for some explorations.  In the area there are traditional tavernas, international cuisine restaurants (italian, mexican), mini markets, tourist shops, water sports, diving center,  atm, doctor, car/bike rental offices
Agios Gordios is situated on the west coast of Corfu, within good proximity to the I.Kapodistrias airport as well as Corfu Town (roughly 15 km).  The resort is connected daily and many times throughout the day with Corfu town by the green bus.  Set in the middle of Corfu Island, Agios Gordios location is ideal to explore the island by car or bike.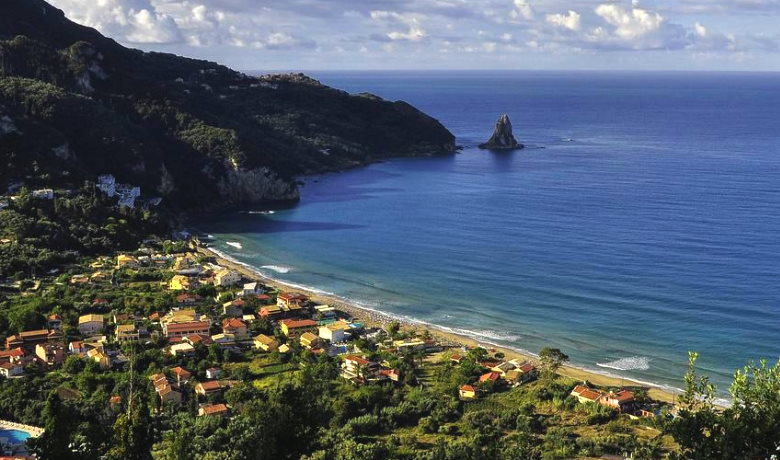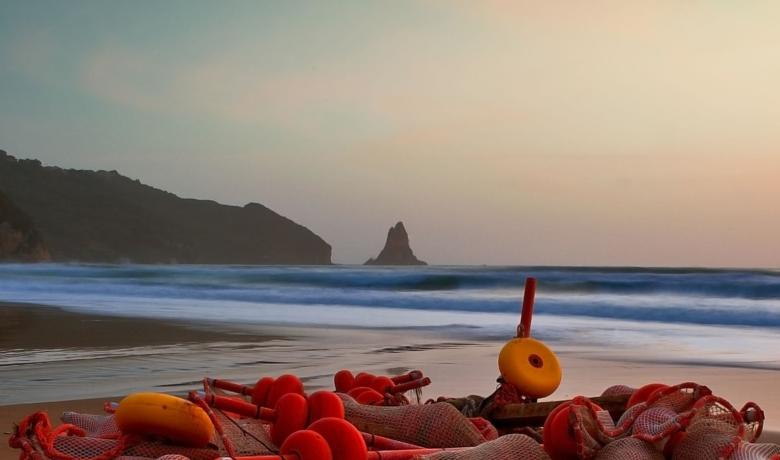 2 Bedroom Apartment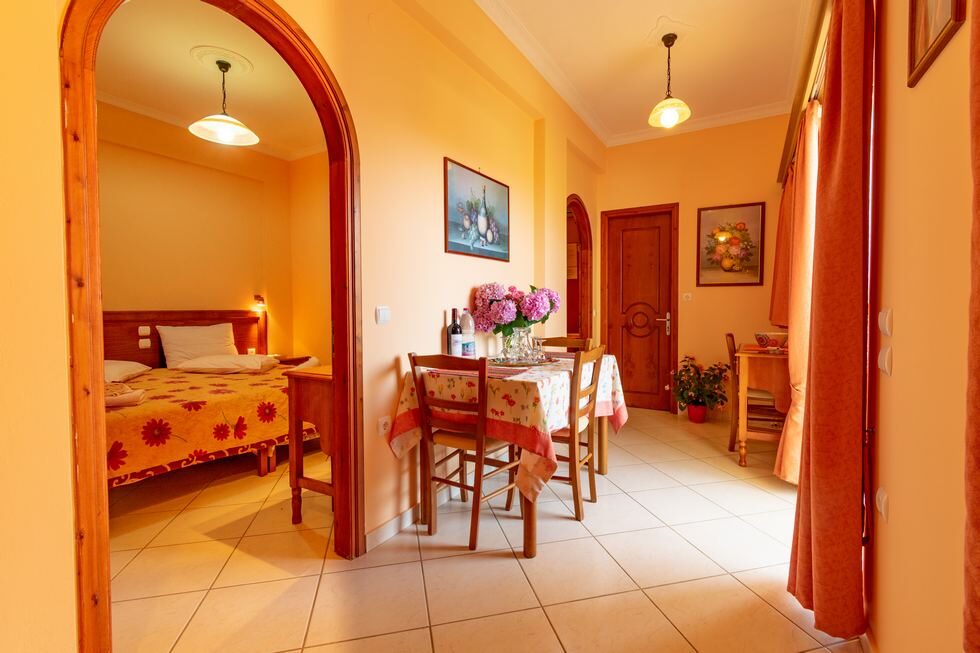 It can accommodate up to 4-5 quests.
Sea view, mountain view, balcony.
Suitable for families.
Studio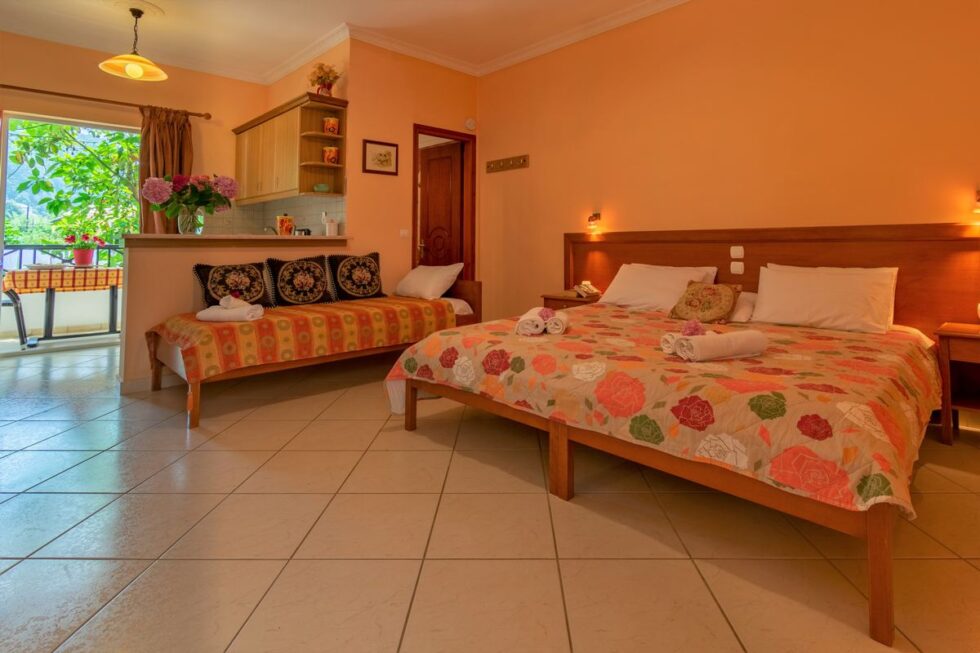 It can accommodate up to 3 quests.
Sea view, mountain view, balcony.
The kitchen and the bedroom are united.